At this weekend's Chicago Comic & Entertainment Expo (C2E2), Wikia Live brought fans together live with a series of programs, including a live hosted "Qwizards: Sci-Fi" game show and an amazing "Expert Showcase: The Walking Dead" panel with show star Chad Coleman. But perhaps our wildest and most colorful event was the Wikia Heroes & Villains Cosplay Challenge!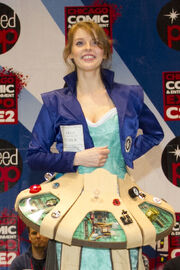 Thirty contestants entered, but only one could walk away with our Grand Prize of $250. Take a look at some of the photos of the amazing contestants and their costumes below! The winner was Christine Miles with her stellar TARDIS console costume, complete with blue lights and police-box bolero.
Our runner-up winners were just as impressive: Crowd Favorite went to KC Gamalinda as Optimus Prime, Most Creative went to Brianne Adelman as the Queen of Darths, Most Accurate went to David Santiago as Nova, Most Technical went to Lauren Townsend as the Tyranosaurus Megazord, and Best Performance went to Nolle D'Arda as Ms. Marvel.
Help the Cosplay Wiki
We would love to invite all the cosplayers we met at C2E2 and who turned up there to admire the contest photos to help us create a biggeer and better Cosplay Wiki! The Cosplay Wiki is intended to be a comprehensive resource for all cosplayer needs - from costume ideas to best practices on craftmanship to a guide to competing and finding cosplay communiites. If you can help, jump in and start editing.
Thanks so much to our amazing contestants and fans for a great time at C2E2!
View the slideshow
Watch the Video
We filmed the contest, and edited it down to 20 minutes. Check it out to see all the contestants strut their stuff: