The Sandman Will Keep You Awake - The Loop
Play Sound
Cosplays
[
]
Background
[
]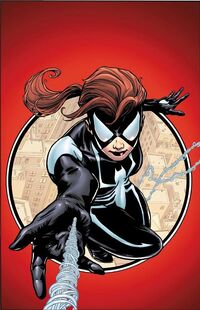 Anya (Spider-Girl), or Araña as she would be called, was a teenage gymnast from Brooklyn whose father Gilberto Corazon was an investigative reporter. He moved with her from Mexico to the United States after her mother was killed.
It was at an average day at school that she saw her friend Lynn being bullied by an older boy. Anya defended her friend, and the two started to fight. A teacher broke their conflict up, but that night the two went down to a bridge to resume their battle. When she got there, Anya discovered a stranger being attacked by a strange group. This Sisterhood of the Wasp attempted to kill the man, but Anya leapt in the way of the killing blow.
The man, Miguel, was the sorcerer of the Spider Society, a secret group dating back for hundreds of years. Recognizing that Anya had the ability to become the new Hunter of the Society, he transferred some of his power to her to save her life. Because of this she gained a spider-shaped tattoo, enhanced strength and agility, and the power to grow an blue exoskeleton.[1]
References
[
]