This is the page showing cosplay specific to the Sailor Moon character. For general Sailor Moon-related cosplay, see Sailor Moon cosplay.
Cosplays
Edit
Background
Edit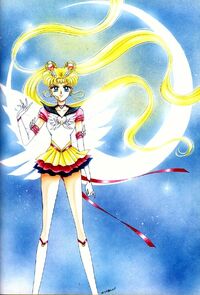 Sailor Moon is the title character and leader of the Sailor Senshi and the secret identity of Usagi Tsukino.
Sailor Moon's original fuku consists of a white leotard with a blue collar that has three stripes on it, light yellow shoulder pads, and a blue skirt, along with a red bow on the chest and at the back. She also wore a pair of red knee-high boots with a white border at the triangular top and crescent moons, gold earrings consisting of a stars with a crescent moon beneath, white-bordered red circular hairpieces (one on each odango), feather barrettes in her hair, and a choker with a golden crescent moon on it with a clip that is similar to her transformation brooch attached to it. Her brooch is worn on the middle of her chest bow.[1]
References
Edit